Secret Affiliate Weapon
You, as an Affiliate Marketer, are very important to the success of our product. So to help you, we have gone out and purchased a number of Affiliate Marketing products and reviewed them for the purpose of providing you with what we thought contained the best information for the price.

The one that stood out head and shoulders above the rest was a book and video package that was unbelievably priced and contained huge amounts of relative content, which was easy to understand to to put into practice immediately. Perfect for those new to Affiliate Marketing.

This book and video package is by a guy called Ewen Chia and is titled "Secret Affiliate Weapon". This is an incredible resource, priced at an incredibly low $9.97, will get you on the right track to earning the amounts of money you've been dreaming about.


It includes reports on:

"Quick-Start Affiliate Profits: How To Promote ANY Affiliate Program For A Surge Of Immediate Profits...Even If You're Starting From Scratch!"

Quick-Start Guide To Google AdWords"

"Thank You Page Tactics!"

"How To Make Money On The Front, Middle And Backend!"


There are 17 video files titled:

10 Google Steps

29 Website Tricks volume 1 & 2

30 Minute Mini Site

5 Traffic Tactics

7 Fast Ways

Adsense Cash

Audio Mastery

Automatic Content

Boost Response

Website Spy

Create Free PDF

Free Toolbars

Huge Keyword Lists

Master Web Graphics

Membership Site

Opt-In Fast



There is more as well, but I think you get the picture...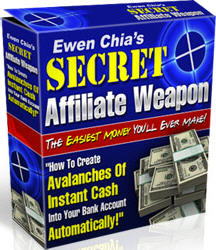 Click Here to find out more about this Must Have Affiliate Marketing Package.